ChDI gathers first results of collaboration with European Parliament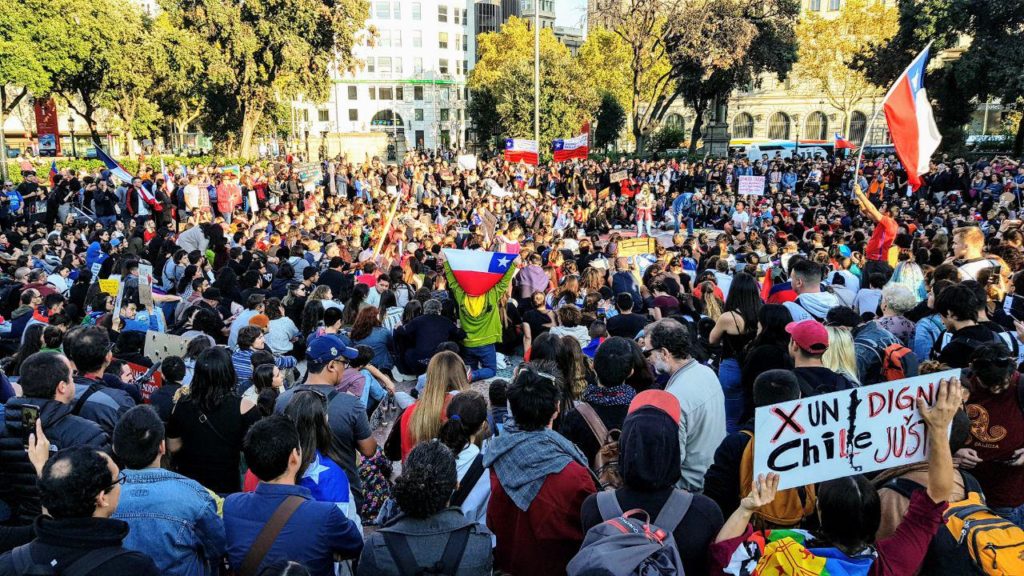 Chile Despertó International Network collects the first results from the collaboration with the European United Left/Nordic Green Left GUE-NGL
Brussels, November 14, 2019
The Human Rights Committee of the Chile Despertó International Network would like to thank the members of the European Parliament Idoia Villanueva and Miguel Urbán, from the Spanish coalition Unidas Podemos, for the report they produced following their visit with more than fifty Chilean organizations. They met with representatives of human rights groups, student associations, indigenous movements, ecologists, feminists, and unionists.
The decision by Sebastian Piñera, Chile's president, to declare a state of emergency on Sunday October 27 th aroused the communities of Chileans living abroad. This has been the principal motor that ignited the coordination from Barcelona of Chileans on all five continents.
Chileans and their allies filled the streets of more than 130 cities, in a chorus of international condemnation against Piñera and his government for police violence that has only intensified as military soldiers have joined the police on the streets.
The network has worked to receive, archive, and translate human rights complaints that arrived from Chile. We have had the privilege to be in contact with defenders of human rights, thus facilitating coordination and the organizing of verified complaints. Without a doubt, the unified discourse of the European right, which does nothing more than reveal its ignorance of reality in Chile, motivated us in this task that we as the Chile Despertó International Network have begun.
As he said yesterday in the chamber, the MEP Miguel Urbán Crespo: "The strugle in Chile against impunity and against neoliberalism is our struggle. Why? Because if Chile wins, we all win!".
The process that Chileans with in Chile and abroad are carrying out opens a new era of social movements. As an International Network, we will not stop accompanying our compatriots within the bounds of the nation-state. We will continue to systematize the
complaints and knock on the doors of the world's democracies so that they roundly condemn the indiscriminate violence of which the government under Piñera has made ample use.
We must find and bring to justice those who are responsible for the policies resulting in systematic human rights violations, including torture and mutilation. The young people in Chile deserve the same respect and protection that those in the first world enjoy. We are happy to share our archive with those in the media who are interested in spreading the truth about the situation in Chile.
Contact to The Human Rights Committee of Chile Despertó International
Network
More information: chiledespertointernacional (at) riseup.com